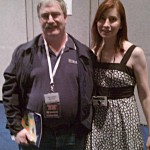 I had BACnet meetings the week of May 2, 2011, in San Francisco. It also happened that the Embedded Systems Conference was the same week in San Jose. I perused my BACnet meeting schedule, and found that I could attend the Embedded Systems Conference on Thursday morning, which would enable me to see the exhibits, and also hear the keynote from Jeri Ellsworth.
My flight to San Francisco from Birmingham went through Houston.  In Houston, I got to ride the Automated People Mover train between concourses, always a highlight on my trips since I worked on these vehicles at several airport and downtown systems for Westinghouse Transportation Systems from 1992-1997.   The train performed flawlessly – perfect programmed stop, smooth acceleration, and very little jerk.  Much to my delight, San Francisco Airport also had Automated People Mover trains, and they also worked very well to get me to the rental car garage.
The BACnet meetings were held at the The Pacific Energy Center in downtown San Francisco.  We discussed the Property_List property for objects, the Zero Config algorithm for MS/TP MAC addressing, and the You-Are service for address and device ID assignment. More importantly, we celebrated Cinqo de Mayo at Chevy's.
On Thursday I arrived at the Embedded Systems Conference a little early, and got to meet Jeri in her motion activated Light Emitting Dress before her talk. After the keynote, I toured the exhibits and picked up several new development kits from microcontroller vendors. The nice surprise was to see my STM32 Challenge contest entry displayed at the STM exhibit. I didn't win, but I had fun.  The STM32 Design Challenge entry was just a simple port of my BACnet Protocol Stack to the STM32F103 ARM Cortex M3 XL-Density Performance Line microcontroller with 1 MByte of embedded Flash and 96K SRAM. I also created a printed circuit board to attach to the STM32 Discovery Kit so that I could integrate RS-485, LEDs, and a DIP switch.